It's time to take a look at the division with the 3 best players at the most high profile positions in the NFL, the NFC North. The NFC North is always one of the most difficult divisions to win, and this year will be no different. Not only do the past two MVP's play here, but also there's a Deceptacon in Detroit who is looking to join the MVP party. Without further adieu, here is our prediction for the NFC North (in order).
1.     Green Bay Packers – Over/Under 10.5 Wins
Key Additions:
Eddie Lacy
Datone Jones
Johnny Jolly
David Bakhtiari
Key Losses:
Greg Jennings
Charles Woodson
Desmond Bishop
Erik Walden
Bryan Bulaga (injury)
A year removed from one of the most embarrassing playoff losses in NFL history to SF, in which the 49ers racked up 579 total yards on offense, one would think the Packers GM Ted Thompson would make sweeping changes. Well that person clearly wouldn't know how things operate in GB under Ted's watch. The Packers build and develop through the draft, and rarely overpay for veterans. This means they never try and find a quick fix via free agency, but trust their coaches and players to progress year after year.
The 2013-14 season will be no different for the Packers. They addressed their needs in the draft by selecting Datone Jones (DE, UCLA), Eddie Lacy (RB, Alabama), and David Bakhtiari (OT, Colorado), among others. Each player is starting week 1, and are expected to make an impact from day 1. Lacy is the most intriguing rookie, for obvious reasons. After dominated the SEC last year, posting his best two games in the SEC championship (vs Georgia) and in the BCS Championship game (vs Notre Dame), Lacy plummeted in the draft due to health/commitment concerns. Lacy showed up to camp with a serious chip on his shoulder, and has lived up to the hype. With DuJuan Harris now on IR with a knee injury, Lacy is in line to carry the ball 250+ times this season. It is scary to think what type of numbers Aaron Rodgers is capable of posting with a running game, and the big 3 (Nelson, Jones, and Cobb) still together. Despite the loss of Greg Jennings (signed with the Vikings), and Donald Driver (retirement), the Packers are still very deep at WR. TE Jermichael Finley is entering a contract year and is coming off the best camp of his career. The always outspoken TE appears to have turned over a new leaf and is putting the team first.
On defense, the Packers look to improve their front 7 with the additions of Jones, and the return of Johnny Jolly, who is coming off a 3-year suspension for violating the NFL's substance abuse policy. Jolly began camp as a long shot to make the roster, but he has had a very impressive camp, and is now a lock to be an impact player on the line. With an improved pass rush usually comes an improved secondary, and the Packers expect their your corners and safeties to make big strides this year.
With an improved defensive rush and potentially vastly improved running game, I like the Packers to retain the NFC North crown and win 11 games. OVER
2.     Chicago Bears – Over/Under 8.5 Wins
Key Additions:
Kyle Long
Jermon Bushrod
Sedrick Ellis
Tom Zbikowski
Key Losses:
Brian Urlacher
Lovie Smith
Johnny Knox
Kellen Davis
Gabe Carimi
For the first time since 2004, two mainstays of the Bear's locker room are gone. Lovie Smith was fired last season, after the team "roared" out of the gate a with a record of 7-1, but still managed to miss the playoffs for the fifth time in six years. This fast start was mostly due to their team's defense ranking first in takeaways, third in points allowed, and fifth in yards allowed. If you had the Bears defense in fantasy, there was a good chance they were one of your top three scorers during these first 8 weeks. The wheels quickly came off for the Bears, and the team went 3-5 in the second half, finishing 10-6. After nine years of service, three playoff appearances, one Coach of the Year award, and a Super Bowl appearance, Lovie Smith was out as Head Coach.
Not only did the Bears lose their coach off the field, they lost the heart and soul of their team on the field. Brian Urlacher retired after a stellar 13 year, future HOF career. Urlacher felt he had at least one more season left in him, but GM Phil Emery disagreed, and the two sides were unable to work out a deal. Instead of trying to get back at the Bears by signing with another team (Like another NFC North great…), Urlacher decided to hang em' up and ride into the sunset. The Bears defense will now look to veterans Lance Briggs, Charles Tillman, and Julius Peppers, to fill the void left by Urlacher.
So how does a team on the verge of a playoff berth and division title rebound after losing these two key components? By hiring a head coach from the CFL of course! Phil Emery shocked a lot of NFL pundits when he hired Marc Trestman as head coach. Marc's only head coaching experience was with the Montreal Alouettes (2007 – 2012), however, he achieved great success there. Marc guided the team to back-to-back Grey Cup's in 2009 and 2010, and won Coach of the Year honors in 2010 as well. During that title run, the Alouettes QB, Anthony Calvillo, was named MVP both seasons. This was just the latest example of QB's achieving success under Trestman. Before he was named coach of Montreal, Trestman enjoyed a long and success career as an NFL and NCAA assistant and offensive coordinator. Most notably, Trestman was the OC in San Francisco in 1995, Arizona in 1998, and Oakland in 2002. Each of these years is significant to why the Bears believe Trestman is the right man for the job. In 1995, his first year serving as QB coach and OC, the 49ers led the NFL in points scored, pass attempts, and passing yards. In 1998, again his first year as QB coach and OC, the Cardinal's Jake Plummer threw for over 3,700 yards, and lead the team to their first playoff appearance since 1982, and first post season win in over 50 years! Finally in 2002, Trestman took over as the Raiders OC, and Rich Gannon went on to win the MVP award. The Raiders would go on to lose in the Super Bowl to the Buccaneers, but Trestman's impact on Gannon and the offense was profound. Everywhere Trestman has coached, the QB's have flourished. This is a long way of saying simply, Trestman is an excellent QB coach, and I expect Cutler to have a career year and lead the Bears to a 9-7 record, and return to the playoffs. OVER
3.     Detroit Lions – Over/Under 8 Wins
Key Additions:
Reggie Bush
Glover Quin
Jason Jones
David Akers?
Key Losses:
Cliff Avril
Kyle Vanden Bosch
Jeff Backus
Justin Durant
The Lions regressed in 2012, after an impressive run to the playoffs in 2011. Matthew Stafford played far too inconsistent, and the running game was marred with injuries. Despite missing the playoffs, and posting an embarrassing 4-12 record, Stafford and Megatron teamed up to produce a record-breaking season. The Lions have plenty of talent on their roster, but that was the case last year. They're a team that has tons of potential, but the lack of discipline and a losing mentality constantly derails their chances. Detroit has been expected to grow up for years. It's never happened, and there's no reason to think this season will be any different, especially with the amount of questions they have on their offensive line. One has to begin to question the coaching staffs ability to motivate and create an effective game plan. I wouldn't be surprised if Jim Schwartz is fired if the Lions come out of the gate slowly.
The Lions will have an impressive pass rush, there is no doubt there, but the secondary remains an area for concern. If they can't defend the pass better, this defense will remain all potential, and not much else. I believe the Lions will once again find themselves in mostly shoot outs, meaning their key offseason acquisition, Reggie Bush, will need to be ready to produce right away. I think Reggie is a perfect fit for this offense, and should find himself in many favorable 1v1 matchups against OLBs and Safeties. This is a vertical passing attack, and having Bush as the check down man will be a major improvement over what they had last year. He will fill the role that was left by Jahvid Best, as his career sadly seems to be over before it really began.
While I expect the Lions to improve upon their 4-12 record, they are going to be right around the 8 win mark, and don't feel comfortable that they will be able to put together an above .500 year. 7-9 UNDER.
4.     Minnesota Vikings – Over/Under 7.5 Wins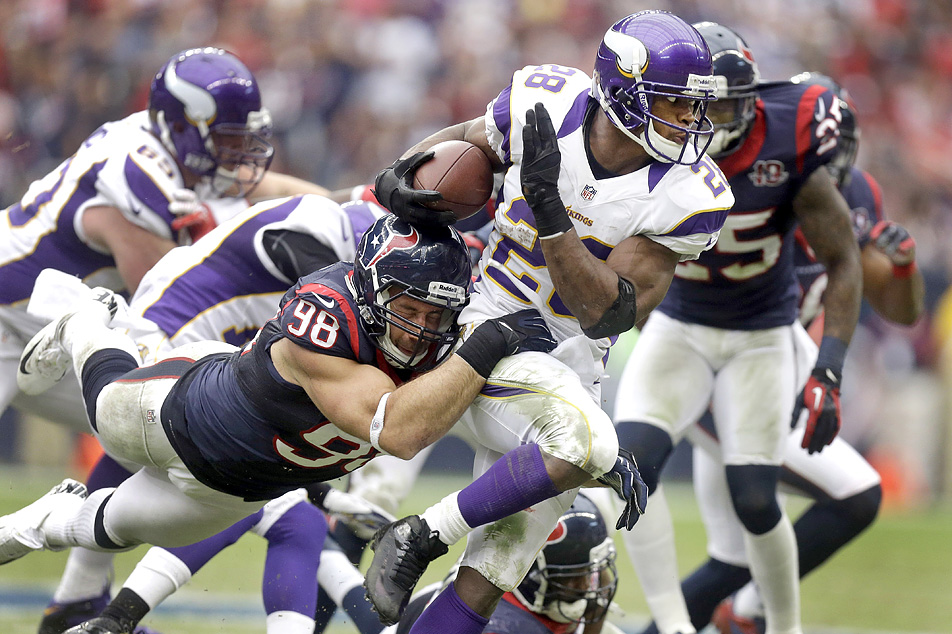 Key Additions:
Greg Jennings
Desmond Bishop
Matt Cassel
Sharrif Floyd
Cordarrele Patterson
Key Losses:
Percy Harvin
Antoine Winfield
Usually, when you have the reigning NFL MVP on your team, you are expected to a playoff threat from week 1, and improve the team around that player in the off-season. Well the 2013 Vikings are neither a playoff threat, nor did they improve the team around Adrian Peterson, AKA All Day. What the man known as "All Day" accomplished last year was truly amazing. Many, including his own positional coach, expected Peterson to begin his season very slowly, perhaps missing some games in the process. Peterson defied all logic and crushed expectations, nearly breaking Eric Dickerson's single-season record for rushing yardage; he gained 2,097 yards and 12 touchdowns. Some, including myself, expect Peterson to perhaps take a step backward after shouldering a huge workload, and doing it all on a surgically repaired knee. It's most likely that Peterson will have another dominant season, though it's safe to say that he'll be 80 to 90 percent of what he was last year, just based on year to year regression among running backs.
With that in mind, someone will need to make up that 10 to 20 percent, plus whatever was lost in the wake of the Percy Harvin trade. The Vikings lost their top playmaker when they dealt him to the Seahawks for the 25th pick in the 2013 NFL Draft.  They drafted Patterson to with the intentions he would fill Harvin's role as a dynamic playmaker, but his skills are still far too raw to expect anything major from him this year. They signed Greg Jennings to be their new No. 1 WR, but the former Packer is overrated because he's injury-prone and always had either Brett Favre or Aaron Rodgers throwing the ball to him. Going from those two future Hall of Famers to Christian Ponder is quite a step down. Ponder will have all the pressure on his shoulders to make up for Peterson and Harvin's lost percentage. He played well at times in 2012, but was extremely inconsistent.
On defense, the Vikings cut long-time Pro Bowl cornerback Antoine Winfield in a completely shocking move. Winfield had been a Viking since 2004 and still performed on a very high level in 2012. Winfield's release was a more financial decision than a football decision, but as I mentioned earlier, you need to build around your MVP, and that means on defense as well. I was very shocked at the move to cut Winfield.
With Winfield gone, Minnesota had to do something about its cornerback situation, given that 2012 third-rounder Josh Robinson struggled immensely in his rookie campaign. The front office spent its second first-round selection – the one it acquired from Seattle for Percy Harvin – on Florida State's Xavier Rhodes, a 6-foot-1 cornerback. He'll start across from Chris Cook, who can be a decent player as long as he stays out of legal trouble. Robinson, meanwhile, will concentrate on slot duties.
The strongest unit on the defense is without a doubt the defensive lin. Three Minnesota ends accumulated eight sacks or more last season: Jared Allen (12), Brian Robison (8.5) and Everson Griffen (8). Allen, obviously the best of the bunch, is entering his contract year. I expect him to have a massive year yet again, especially with the addition of Floyd on the line.
The weakest part of the Minnesota defense was the line backing corps. Chad Greenway is a solid player, but Erin Henderson is being asked to do too much. The Vikings had a huge hole in the middle, so they signed Desmond Bishop. The former Packer missed all of 2012 with a torn hamstring, but was one of the tops inside linebackers in the NFL before that. It's unclear if he can transition well into the 4-3, but he'll still be better than what Minnesota initially had.
The Vikings barely made it into the playoffs last year, despite the once in a lifetime year for Peterson. Adrian Peterson will need to duplicate, if not exceed, last year, unless Christian Ponder improves by a large amount and the schedule proves itself to not be as tough as it's perceived to be. Given all of that, it's unlikely that Minnesota will be in the playoffs again this year. 7-9 UNDER.