It's the most underrated sports moment of the year:  the moment you realize the NFL season is just around the corner.  It comes after the draft and free agency but some time right before the teams report to camp.  You have a great understanding of where your team lies, what its strengths and weaknesses are, and what the reasonable expectation is for the season.  (Sorry Jaguars and Browns fans.  This moment may be the most overrated sports moment of the year.  That is, if in fact, there are any Jaguars and Browns fans).  


Here at almost varsity, this moment happened a few weeks ago and we've been spending the past few weeks getting a feel for all 30 NFL teams (on top of getting ready for the upcoming fantasy season).  One of the many great things about the NFL is that each season is so unique and so isolated from every other season that a full preparation schedule is necessary.  So we figured why not do a division prediction column for each division, throw in the over under win totals, and provide our readers with a full sense of where we see each team heading into the season?
We will be rolling out these previews over the next few weeks so check back frequently to see what teams we thingkare going to have a good year and what teams aren't.  A quick note on how these will work.  We will rank the teams by our predicted order of finish.  We will also post the over/under season win totals per Vegas.  Then, you will see our predicted season win total followed by a rating from 1 star to 5 stars.  These stars are our confidence ratings for our win totals.  (1 being the lowest confidence rating and 5 being we're really confident in our over/under prediction).  Confusing?  1 bad 5 good.  
We start out west with what may be the leagues best division that just three seasons ago had a 7-9 Seahawks team win the division.  Welcome to the NFC West.
Seattle signed Percy Harvin this offseason
1. Seattle Seahawks (o/u 10.5 wins) – 13 WINS (OVER) – 5 stars
There are obvious things to like here from a young core getting better, a great coaching staff, and the addition of Percy Harvin.  However, our prediction of 13 wins stems from two major things.  The first is the best home field advantage in sports.  The Seahawks were 8-0 at home during the regular season last year with wins of GB, NE, and SF, some of the best teams in the league last year.  This year the schedule is extremely favorable at home.  A 7-1 record is expected and an 8-0 record is certainly attainable.  That leaves 6 wins on the road and if you watched Russell Wilson play in the playoffs last year, you'll know that's certainly not out of the question.  The second reason is Russell Wilson.  His games from week 6-week 18 are downright scary (24 TDs, 5 INTs).  His last 5 games of the season he averaged 61.2 yards per game on the ground, better than RGIII's season average of 54.3 yards on the ground.  You could make a real argument he's the best young quarterback in football.  
2. San Francisco 49ers (o/u 11 wins) – 10 WINS (UNDER) – 1 star
We actually like 11 wins from the 49ers this year, but we're in this business to take a stand.  Colin Kaepernick had a real coming out party in the playoffs and looks like every bit the real deal.  Jim Harbaugh is one of the best coaches in the business.  So why no confidence in them?  For one ,the loss of Michael Crabtree is devastating.  He was their real lone playmaker on the outside and looks to be lost for the season.  Anquan Boldin is a shell of himself and can't separate consistently anymore.  AJ Jenkins is on the early track of becoming a bust.  Who does Kaepernick throw too?  (and check out Vernon Davis' games since Kap took over, not pretty).  The other reason we're skeptical: the defense.  Aldon Smith was wholly ineffective after Justin Smith was hampered with an injury late in the season.  Dashon Goldson has taken his talents elsewhere.  And the cornerback situation is weak.  Color us skeptical.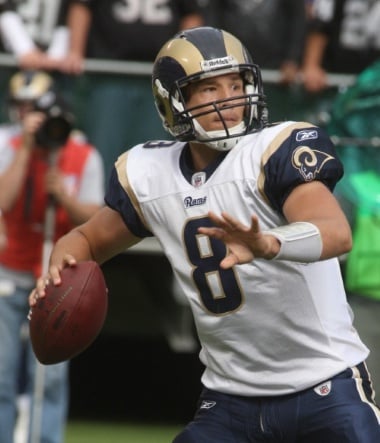 Sam Bradford
3. St. Louis Rams (o/u 8 wins) – 9 WINS (OVER) – 2 stars
The main reasons we like the Rams to be competitive is (you guessed it) twofold.  One, Sam Bradford finally
has some continuity in his coaching staff.  The offensive coordinator position has been a revolving door for his career and for the first time he'll have the same coordinator in back to back years.  We like him to really make a jump this year.  The second is the influx of talent.  Percy Harvin lite aka Tavon Austin is a weapon that can line up all over the field.  Daryl Richardson is a spark plug out of the backfield.  Finally, the Rams have surrounded Sammy Bradford with weapons to be effective.  
4. Arizona Cardinals (o/u 5.5 wins) – 7 WINS (OVER) – 3 stars
John Skelton, Kevin Kolb, Ryan Lindley, Derek Anderson and Max Hall have been throwing to Larry Fitzgerald the past three years.  Seriously.  Carson Palmer is a league average quarterback with bricks for feet but league average is a huge upgrade for the passing game.  An above average defense with an absolute stud at corner in Patrick Peterson will keep Arizona competitive in most games.  Plus, Bruce Arians brings his system that worked wonders with the Colts last year to the desert.  Not to mention the Honey Badger is sure to have a few special teams TDs, and we like the over fairly confidently.  And no, we can't believe we're saying that either.  
NFC South preview up next.